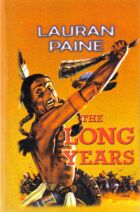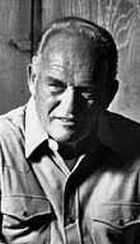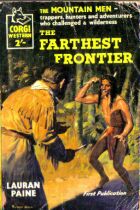 LAURAN PAINE
As western writers go, Lauran Paine was certainly the genuine article. "Because I grew up in the western ethos and environment," he once told me, "I am perfectly at home writing westerns. I did it all at one time or another, and have the scars to prove it, from blacksmithing to trapping wild horses, to working in a saddle and harness shop, to working cattle -- my own later, the cattle of others earlier -- to riding in motion pictures, to horse and cattle trading.
The author of close to a thousand books, the majority of them westerns published by Robert Hale, Lauran Bosworth Paine was born in Duluth, Minnesota, on 25 February 1916. A descendent of Revolutionary War patriot and writer Thomas Paine, he was educated at the Pacific Military Academy in Culver City, California and St Alban's Episcopal Academy in Sycamore, Illinois.

While education was all well and good, however, Lauran felt that being a free spirit was even better, and by his own admission, he left home "rather early," determined to find out what lay on the other side of the mountain.

It turned out to be hard manual work in wide-open country, and -- as we've already heard -- valuable experience in most areas of the livestock business, competing in rodeos and even performing as a stunt rider in Hollywood, where he appeared in a number of Johnny Mack Brown westerns, plus Warner Brothers 1936 production of The Charge of the Light Brigade.

Married for the first time in 1938, Lauran eventually fathered two sons, Robert Treat Paine (who died in 1966) and Lauran Paine Jr, himself now the author of several non-fiction books. But it was whilst working as a cowboy at the Roberts Brothers XIH ranch in Cache Le Poudre, northern Colorado, that he first chanced upon a stack of western pulps that was to change the direction of his life.

Unimpressed by their poorly-researched and error-strewn contents, he decided to write some more accurate western fiction of his own. But success was not immediately forthcoming, for one very simple reason. According to Robert A W Lowndes, then editor of Real Western Stories, Lauran was trying to educate readers who would much rather be entertained.

"So I conformed until I was well-enough known to come back to telling about things as they were," Paine continued. "Example -- the hero jumps off his horse, runs up a hill and shoots at a bunch of Indians, goes back, gets on his horse and rides home.

"Well, by the time he got back to that horse, it was five miles away and still going. You have to tie horses, or hobble them. I could give you a dozen examples of what bad western writing is, but some other time."

Paine eventually wrote about sixty short stories and features for such magazines as Texas Rangers, Famous Western, Western Action, Real Western Stories, Action-Packed Western and Best Western. "None of them paid much," he confessed, "but it was groceries, and anything is better than a snow bank."

For many years he wrote eight hours a day, seven days a week, although in later life he cut back to half-days and no weekends. Amazingly, he never learned to type, either. "I was always too busy writing," he once told me.

By 1948 he was writing full-time, but sales soon became patchy, and because there were too many delays between paydays he started selling longer fiction to Hamilton & Co in the United Kingdom, where it appeared under his own name and the pseudonym Mark Carrel. His first published novel was the impressive Adobe Empire (1950), a fictionalised retelling of the life of trader William Bent, which he had actually written four years earlier. It has since been reissued in large print, and is well worth searching out.

More novels followed -- a lot more -- including Geronimo! (1950), Comancheria (1950), Decade of Deceit (1955) and Lord of the South Plains (1956). His 1955 western, Lawman, was also filmed two years later as The Quiet Gun (a.k.a. Fury at Rock River) starring genre favourites Forrest Tucker, Jim Davis and Lee Van Cleef.

In addition, he wrote a number of excellent books on western history, including The Farthest Frontier (1957; about the era of the Mountain Man), The Long War Trail (1957; a personal favourite that I've consulted time and again over the years), The Massacre at Mountain Meadows (1958; an incisive retelling of the infamous slaughter of innocent settlers by the Mormons), Northwest Conquest (1959; the story of the settlement of Oregon) and the self-explanatory The General Custer Story (1960).

When the paperback market began to dry up in the 1960s, however, Paine adopted several new pseudonyms and began turning out westerns primarily for Robert Hale, its subsidiary John Gresham and the then-buoyant library market. Now, in addition to Mark Carrel, he could also be found masquerading as Clay Allen, A A Andrews, Dennis Archer, John Armour, Carter Ashby, Harry Beck, Will Benton, Frank Bosworth, Concho Bradley, Claude Cassady, Clint Custer, James Glenn, Will Houston, Troy Howard, Cliff Ketchum, Clint O'Conner and Buck Standish, among many others. Additionally, he published scores of crime, science fiction and romance novels (virtually all issued by Hale or Gresham), but later admitted that thrillers and SF required more thought, time and planning to make them work.

As Jim Slaughter, Lauran wrote the seven-book Boone Helm series, and would return to the series format many years later for his Sheridan Township sequence, which appeared in paperback (from Fawcett) throughout the early 1990s. In general, however, his westerns were mostly stand-alone efforts.

Always fascinated by prolific writers, and still struggling vainly to become one myself, I had first become aware of Lauran's books whilst studying old Hale fiction catalogues. Although most of Hale's western writers seemed to come from different parts of the U.K., the location of a great many more was always listed as Greenview, California. When it finally dawned on me that one man alone was behind so many different pseudonyms, I started checking out his books, and overall I liked what I read. I eventually contacted Paine and we struck up a semi-regular correspondence. I even dedicated one of my own books, Tanner's Guns, to him, but curiously he never commented upon it and never even thanked me for the copy I sent him. Maybe he thought it was some more of that bad western writing he'd spoken about earlier, but I always felt that Tanner's Guns was one of my better stories!

In some quarters, and certainly since his death in 2003, Lauran has been accused of writing just to make up the numbers. In my too-brief association with him, however, I never saw any indication of this. Writing was simply what Lauran did.

There was, of course, an undeniable, inevitable and probably unavoidable sameness to so many of his books, which may in the long run have harmed the reputation of the Black Horse Western. All too frequently, for example, they featured three old friends -- usually retired stockmen, blacksmiths or stable-owners -- who work together to solve a murder, an attempted murder or to thwart the designs of some land-hungry developer. Books like A Town Named Meridian (1987; as by John Hunt) and The Springfield Stage (1989; under his own name) are little more than expanded short stories, and a great many more reach their climax long before the end of the book (sometimes as many as thirty or forty pages before the end).

Yet others display so many rudimentary errors that there can be little doubt that they were turned out in a hurry. A classic example of this can be found in Sage City, a BHW he published in 1987 as Charles Burnham. The hero's name changes not once but three times before the anti-climactic ending, from Carl Miller to Carl Turner, then from Carl Turner to Art Turner! Then there are books like Pine Mountain (1986; as by Buck Bradshaw), which turns out to be a more-or-less carbon copy of The Tennyson Rifle (1982; as by John Durham).

To concentrate more on his less-successful westerns is to do the author a great disservice, however. On the plus side, Paine always described his terrain vividly, displayed a firm grasp of human emotion and had the ability to convey it well, and he always drew his characters with a sure hand. "I haven't even begun to scratch the surface of the people I have known and shared life with," he once confided, "those human beings whose lives developed in an environment of hardship, basic convictions and a very simple acceptance of life."

In particular his longer novels, published in America by Walker & Co, are still impressive. Spirit Meadow (1987), the story of a rangeman and his widowed sister who are left to look after an Indian baby, shows tremendous humanity and is not easily forgotten, although a similar plot resurfaces in his Cheyenne Dawn (1987; as by Will Brennan). The Arizona Panhandle (1989; as by Richard Clarke) was a finalist in the WWA's Best Western Novel category and came within a whisker of actually winning the coveted Golden Spur. The Open Range Men (1990) centred around the conflict between free-grazers and cattlemen is another high-water mark in his bibliography. Some years later it was turned into a major motion picture starring Kevin Costner (who also directed) and Robert Duvall.

In 1982 Paine married retired librarian Mona Llewellyn. Mona later became his sub-editor and secretary, and between 1980 and 1984 he was listed in the Guinness Book of Records as the most prolific author in the world (a title presently enjoyed, I believe, by Brazil's Ryoki Inoue, who has just published his 1,060th novel). Lauran also continued to write non-fiction as well, on such diverse subjects as German Intelligence in World War II and the relevance of sex in witchcraft!

It's difficult to say just how important Lauran Paine's contribution to western fiction is. To some he was a virtual writing-machine who wrote simply about what he knew. To others he is dismissed as little more than a hack. But visit any library in the UK and he is still one of the best-represented western writers on the shelves. And thanks to his later association with Jon Tuska's Golden West Literary Agency, many of his earlier and arguably stronger stories are now coming back into print. It could be that Lauran Paine is long-overdue for a reappraisal, and I for one certainly hope so.