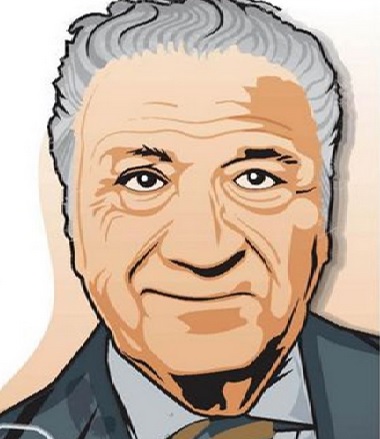 Andrew J Fenady became one of my favorite western writers after I read his Christmas western Runaways, back in 1994. But of course I had become familiar with his work even before that, from such classic TV fare as The Rebel and Branded, as well as the 1970 John Wayne classic Chisum.

Andrew J Fenady was born in Toledo, Ohio, on 4th October 1928. At the University of Toledo, from whence he graduated with a degree in Economics, he took the lead role in a number of stage productions. During the same period he also produced several local radio dramas in which he also appeared, and performed in summer stock with the National Classic Theatre in a Shakespearean company.

Fenady and his younger brother George (who died in May 2008 and was known professionally as 'Georg' Fenady) eventually ended up in Hollywood, where Andy became assistant to Paul Coates. This in turn led to him writing and producing Coates' controversial but multiple Emmy-award winning TV series Confidential File.

In 1958 -- and some 150 shows later -- Fenady and Confidential File director Irvin Kershner wrote and produced a feature film on a borrowed $15,000. This was Stakeout on Dope Street, possibly the first Hollywood movie ever to deal with the heroin trade. The fledgling movie-makers eventually sold it to Warner Brothers for ten times its original cost. Following this, Fenady wrote and produced another feature, The Young Captives, and created and produced The Rebel (1959-1961) for television, starring Nick Adams. The top-rated show lasted three seasons and the Fenady-penned theme song, "Johnny Yuma," became a No 1 hit for Johnny Cash. Another series, Branded (1965-1966) followed. Coincidentally, Fenady himself appeared in episodes of both series, playing the same character -- General Phil Sheridan. What are the chances, eh?

Between seasons, Fenady wrote and produced the feature film Ride Beyond Vengeance. He then combined television and motion pictures with Hondo, which served as a television pilot. The Hondo project led to a long-term association with John Wayne's organization, Batjac, culminating in Fenady writing and producing John Wayne's movie, Chisum.

With the trend moving away from westerns, Fenady began to think about mysteries instead, and started writing his first book, a noir private eye story called The Man With Bogart's Face, whilst working at Bing Crosby Productions, but never completed the manuscript. When he went to work at Warner Brothers, however, he found the studio to be steeped in the history of the likes of Bogart, James Cagney, Edward G Robinson and George Raft. This renewed his interest in the project and he decided to write the novel simply because he had never written one before. It took 28 days to write and Fenady subsequently wrote and produced a film version.

Fenady first encountered John Simpson Chisum in Zane Grey's book Nevada, and worked up a presentation that he took to Michael Wayne in 1970. Wayne agreed that it was a perfect vehicle for the Duke, and today Fenady still considers the project to be the highlight of his career.

The Man With Bogart's Face received an Edgar award from the Mystery Writers of America, and more mysteries followed. His "A. Night" novels are particular favourites of mine.

It is for his westerns that he remains best-known, however -- and in my opinion, rightly so. Claws of the Eagle (1984) is a compelling mixture of fact and fiction, telling as it does the story of Al Sieber's two scouts, Tom Horn and the Apache Kid, and the events which turn them from friends to bitter enemies. It's a powerful western in which there are no good guys or bad guys, and the outcome is not easily forgotten.

Fenady has long been fascinated by the life of Jack London, and The Summer of Jack London (1985) tells the story of one tumultuous season in the famous writer's life. It's a tremendous, vividly-described epic of a book that sheds light on the man himself and how he came to write such novels as Call of the Wild and The Sea Wolf.

Like all Fenady's work, Runaways (1994) is compelling, sensitive and told with tremendous style. Set in 1867, it tells the story of Shad Parker, a widower whose wife and children were killed during the war. Into his life come not only a band of fugitives but also three young children, the runaways of the title. It's a poignant story made more so by the fact that the events Fenady chronicles take place in Christmas week.

2001 saw the publication of There Came A Stranger, which Fenady himself describes as Double Indemnity set in the west. The stranger of the title, Adam Dawson, goes to work for Chad Walker, a crippled rancher with a beautiful wife, Lorena. Almost before he realises it, however, Dawson finds himself being set up to murder Lorena's husband, with Lorena herself -- along with Chad's cattle empire -- as the reward. The question now becomes -- will Dawson go through with it?

Fenady's next western, Double Eagles (2002) had its beginnings in a conversation with John Wayne, whilst they were filming Chisum. Wayne said that he'd enjoyed working on the movie so much that they would have to get together and do it again sometime. Fenady, taking the Duke at his word, immediately said, "Want to do it on land, like Chisum, or on the water, like Wake of the Red Witch?" Wayne's reply was "Both." So Fenady wrote this story about a Union officer entrusted with vital weapons and a fortune in gold to be used to finance the war effort. When the ship is attacked, he elects to transport his cargo across Mexico, to Vera Cruz, and that's where the fun really begins.

Riders to Moon Rock (2005) is an epic novel of love and hatred that owes more than a nod towards Emily Bronte. Peopled with fascinating and wholly believable characters, it's ultimately a tragedy that lingers in the mind. As with all of Andrew Fenady's work, however, it's the style in which his stories are told that really bring them to life. Words are the tools of Fenady's trade and he uses them to tremendous effect, time and again.

Big Ike (2007) tells the story of a man who leads a wagon trail through Apache country in hopes of establishing a freight line in Arizona. Once again the colourful cast includes a nun and a reformed prostitute, both of whom have an effect on the title character ...

As of this writing (September 2008), Fenady's most recent western is The Trespassers (2008), the fabulous tale of four soldiers of fortune who cross the border into Mexico in order to dig up five million dollars in buried gold. But digging the gold up is one thing. With a band of comancheros in the vicinity, as well as a fair proportion of Benito Juarez's army, keeping it gets to be something else entirely ...

Fenady presently lives in Los Angeles with his beloved wife, Mary Frances (Dolan). The couple have six children, many of whom have followed their father into showbusiness. Andrew J Fenady has also been honoured with The Golden Boot Award and the Owen Wister Award for his lifetime contribution to westerns.

Andrew J. Fenady has continued to produce fine western novels, inclusing Destiny Made Them Brothers (2013), The Range Wolf (2014) and Black Noon, coming in November 2015.