One of the many gratifying things about the humble Black Horse Western, as published by Robert Hale Limited, is that copies of even the earliest books tend to stay in public libraries up and down the country for many years after their original publication -- and this, in turn, means that quite often the curious reader will come across some of these older titles and -- if he or she is anything like me -- wonder a) did the author write any other BHWs, and b) if not, why not?
In all too many cases -- and here the names of Geoff Sadler, Len Meares, Dave Armstrong, Lee F Gregson, Lauran Paine, Irene Ord, Vic J Hanson and Geoffrey John Barrett spring to mind -- we know why not. But other BHW writers -- and over the past twenty-one years there have been a startling number of them -- seem to have that one brief, creative moment and then apparently vanish without trace.
I would love to reveal the fate of these BHW writers whom we now classify as Where Are They Nows, but the sad truth is that I just don't know. Instead, however, I thought it would be nice to simply throw out some names and see if they strike a chord with you, my fellow readers. If nothing else, I'm sure that what follows will give many of you some "new-old" names to search out -- and may even prompt the writers themselves to finally step forward and take a bow.
Among BHWs' many one-book contributors was Dan Halacy, whose Empire in the Dust was first published in America in 1990, and reissued as a BHW two years later. Halacy wrote a number of science-related books throughout the 1960s, but to the best of my knowledge, this was his only western.
Philip Underwood's Ben Cooper: US Marshal (1990) was also first published in America (by Walker & Co), and reissued by Hale in 1992 -- but as far as I am aware, nothing more was ever heard from this writer, either.
Another wordsmith from the Walker & Co stable was Nebraska-born Kirk Winkler. Winkler saw his only two westerns, The Old Boys (1991) and The Intruders (1992) issued in the BHW format, but never penned any further novels. And that's a shame, because The Old Boys -- a neat combination of traditional western and murder mystery, set during a get-together of old-time lawman, including Wyatt Earp and Bat Masterson -- was told with great style. [1]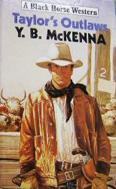 Then there was Pat Redford, who wrote his (or her) only western, The Gunslinger, in 1992. Y. B. McKenna wrote Taylor's Outlaws in 1993 and A Valley to Die For two years later, but was never heard from again. The only thing I ever knew about this author is that the 'Y' stood for Yvonne.
| | |
| --- | --- |
| | |
I was also going to include S. J. Rodgers in this section, until I realized that that the author of 1997's Missouri Palace is possibly better-known as Shirlaw Johnston Rodgers, a writer who published several way-above-average pre-BHW westerns in the 1980s, back when Hale books were still issued with dust jackets.
The list goes on, though. Frank Weight wrote his only BHW, Hills of Blood, in 2000, as did John Slate, who gave us Fires of Vengeance, and Arnold Ryder, who wrote Deluge!. "John Slate" was a pseudonym once used by the near-legendary John Russell Fearn ... was he responsible for Fires of Vengeance?
| | |
| --- | --- |
| | |
It's quite possible, of course, that writing just one book was enough for these authors. After all, not everyone aspires to leap on the treadmill and keep "turning them out," so to speak. Then again, it's equally likely that, for whatever reason, many of these same authors went on to write further westerns under other names. It could also be that some writers are just slower than others.
There were two-year gaps between John Renwick's first three BHWs -- Hungry Guns (1981), Wilderness (1983) and Huntdown (1985) -- but the last two, Tegill's Land and Three Guns for Guadia both appeared in 1988. Brett Pasco produced five books in three years -- Glory Trail (1992), Buffalo Crossing (1993), Arrowhead Valley (1993), Hellfire Town (1994) and Devil Riders (1994) -- but after this he was never heard from again.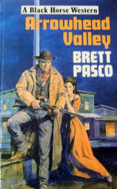 Jeff O'Donnell wrote two BHWs -- Broken Bow and Dismal River -- but they appeared two years apart, the first in 1994, the second in 1996. The author's only other western, Blood on the Republican was published by M Evans in 1992.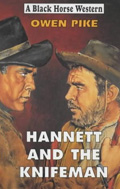 Owen Pike chronicled the adventures of a continuing character in two books -- Hannett Under Fire and Hannett and the Knifeman, but a wait of two years -- between 1999 and 2001 -- separated them.

Lee Younger produced three books in as many years - Come Hell, Come Sundown (1997), When the Pistolero Rides (1998) and Way of the Hunted (1999) -- then nothing. [2]

Saran Essex (a receptionist and administrator from the West Midlands) contributed two westerns to the BHW line, both featuring Butch Cassidy and the Sundance Kid. But Trail to Vengeance (1988) and Treacherous Gun (1990) quite unintentionally threw up some awkward questions about the outlaws' sexuality.

Butch was depicted as over-sensitive and often naive, while Sundance was stubborn, quick tempered and vaguely sadistic. Both tended to shake, weep and whimper at the slightest provocation. At one point, when they are reunited after Butch mistakenly believe Sundance to have been killed, it is "suddenly all too much for Butch to handle, and a fresh flood of tears came to his eyes, almost blinding him. His breath started coming in compulsive gasps. He tried to fight it but could not, and gave way to low, weak sobbing."

The bond between the characters, as described by Essex, was "stronger than that of most married couples." And when Butch gets the chance to go back into partnership with an old outlaw friend, he refuses by saying, "It's not that I don't care about you any more ... You meant so much to me at one time, you even came before Amy ... If you had not walked out on me, I would have gone on being your partner for always. But you did walk out and things are different now: Sundance is my partner, he's my family and there ain't no-one in this world who can take his place in my life ... "

M. M. Rowan's five BHWs -- written between 1985 and 1991 -- were rather more satisfying. A charming educator from Glasgow, Marie Rowan's writing frequently explored the relationships between ordinary pioneer stock, and her plots were distinguished by unexpected twists and a largely unglamorous view of the west. She made her debut with the somewhat contrived No Long Farewell in 1985 but quickly got better, and her third book, Absarokas (1989) is quite probably her best. Having said that, this is the only western I have ever read where the reader is largely "shielded" from the violence (you'll have to read the book to see exactly what I mean). Indeed, one fight scene actually takes place between chapters, and is only referred to once it's all over!

On average, Rowan took between twelve and fifteen months to write a book, but in 1990 confided to me that she hoped to write faster in future. After 1991's Singing River Rise, however, she vanished from the scene altogether.

Sometimes, though, BHW writers do come back. Mark Falcon -- in reality Bedford-born Eileen Pickering -- wrote her first Hale western, Reluctant Outlaw, in 1979. Two further westerns followed -- The Yellow Bandanna (1979) and Lightning Hits Glory Town (1980). But nearly a quarter of a century was to pass before she returned to the genre with The Outlaw's Woman (2003), Outlaws' Loot (2004) and Kinsella's Revenge (2004). Hale publish her most recent western, Lightning at the Hanging Tree, in April 2008.

Johnny Mack Bride wrote eleven BHWs in nine years. Born in Airdrie, Scotland, John McGeough -- to give him his real name -- was an English teacher who enjoyed reading westerns and eventually decided to write one of his own. The result was Lame Dog Lawman in 1990. As is the case with so many first attempts, however, this BHW is somewhat uneven, and one scene in particular -- in which McShane, the disabled lawman of the title, puts a drunken polecat into a henhouse in order to create a diversion -- will always stick in my mind:

"A goddam polecat!" the chickens screamed. "A polecat for Crissakes! A goddamn polecat inside our home. There must be a way out of here for Crissake! Will some bastard open the door!"

John's books frequently portrayed ordinary men overcoming adversity and making good, often by most unusual means, and his characters nearly always preferred to use their intellect rather than their guns. He seldom wasted time on characterisation and description -- his stories rattled along too quickly for that. One of his more unfortunate habits, however, was to pepper his dialogue with the word "fugging" - a corruption of the word ... well, I'm sure you can guess exactly what. This persistent use of "fugging" eventually moved one irate reader to write a letter of complaint, and suggest to John Hale that he never again issue a Johnny Mack Bride western!

Luckily, John McGeough tempered his language, and wrote fairly steadily until his final book, Renegade Blood, in 1998.

But what really became of the men and women mentioned here? Did they really only have one or two stories to tell? Did they think that writing was going to be more fun than it actually was, and found themselves disillusioned by the often prosaic nature of the trade? Perhaps they moved on to other, more financially and critically rewarding genres. Unless they come forward and tell us, however, it's doubtful that we'll ever know.

Still, if nothing else, this examination of those Where Are They Nows proves one thing beyond any shadow of doubt.

BHW writers may come and go ... but the humble BHW itself remains forever!

---

NOTES

[1] Angie Palmer subsequently discovered that Kirk Winkler was the owner of ProMedia Strategies, LLC, headquartered in Omaha, Nebraska. In Winkler's thirty-year media and consulting career, he worked as a television reporter, producer, anchor and manager. He ran television news departments in the Southwest and Midwest, operated his own broadcast consulting company, providing counsel to numerous television stations and public relations clients throughout the Midwest. He was also on the corporate staff of an Illinois-based media company with responsibilities for market research, newspaper and broadcast news, and new media development.

[2] I later discovered that Lee Younger was a pseudonym for Desmond J. Richards, who also wrote Black Horse Westerns as D. J. Richards and John Brand. Check 'em out -- he's an excellent writer.