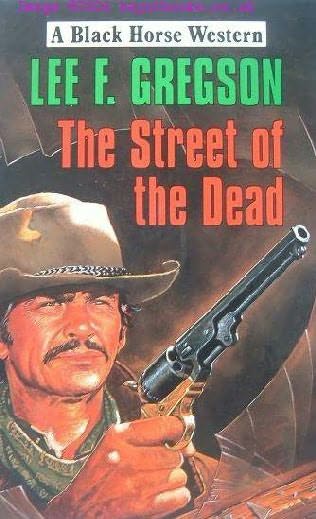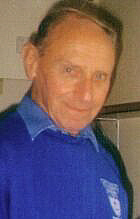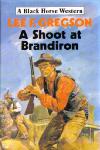 With special thanks to Keith Chapman (www.blackhorsewesterns.com) for his generous and much-valued contribution to this article.

I first discovered the Black Horse Westerns of Lee F. Gregson back in 1991, when the late Geoff Sadler (better-known as BHW writer Jeff Sadler) asked me to write an essay on his work for the second edition of Twentieth Century Western Writers. Without meaning to, I started off with what is arguably Gregson's best book, The Pistol and the Rose (1990), an unusual story in which a nameless stranger staggers into a sleepy border town and is nursed back to life by a local prostitute named Rosa.

Even though he asked far more questions than he answered, I was impressed with the author's vivid portrait of life in a scared town. Here was a writer with a gift for words, whose frontier was a hard, dirty and sometimes soul-destroying place. Above all, however, it was inhabited by characters you could really believe in. After months spent appraising the work of less accomplished writers, The Pistol and the Rose hit me like a breath of fresh air. Consequently, I spent the next several weeks tracking down everything else Gregson had written, but there wasn't much -- The Pistol and the Rose was only his fourth book. Hale had issued his first, The Killings at Sligo, a year earlier, but as I was to discover when I finally tracked down a copy, this not-bad western (which revolves around a bank robbery and its aftermath) didn't even hint at the more powerful novels to come.

Gregson had followed Sligo with Ballad of the Stalking Man (1989), in which he made his first real attempt to blend elements of the almost-supernatural with the traditional western. The "stalking man" of the title is Saul Mordaunt, a disfigured gunfighter haunted by memories of an earlier time, who is initially hired by the villain of the piece, but who ends up becoming something of a loose cannon. The story ends with a great pitched battle -- a plot device which would eventually become something of a trademark for the writer.

A Posse from Stratton Forks (1990), took as its basis a man-hunting theme, but for me at least, Lee Gregson's reputation as a writer to watch was confirmed by Book # 5, The Man Out There (1990). The central character here is a lawman named Tom Hallet, whose devotion to duty has already cost him his marriage. Giving his all for an ungrateful town, Hallet gradually comes to realize that there is always one more "man out there" looking to challenge him, but before he can quit and follow a somewhat more peaceable path, he finds himself having to face one final showdown ...

By now I was curious to find out more about the author, and in March 1992 I wrote to him, in care of our publisher. A few weeks later, I discovered that "Gregson" was in fact one Lawrence "Laurie" Robinson, from Christchurch, New Zealand. By all accounts, "Gregson" was an old family name which this intensely private man had decided to use as a nom-de-plume.

We hit it off immediately, and Laurie was more than happy to answer all my questions, although he was reluctant to have his real name made public for fear that Americans, in particular, might think that "Laurie" was actually a woman. He didn't want me to publish his date of birth, either, fearing that it might go against him if it became known that he was then -- shock, horror -- 65 years old. "If this seems paranoid," he added, "humor me." So I did.

In fact, Laurie Robinson was born in New Zealand in 1927, though his parents originally came from Yorkshire, England. He worked at a variety of jobs after leaving school, one of them with an airline, before finally settling down as the Parts Inventory Manager of NZ Caterpillar, a position he occupied for the next 36 years, and in which he often found himself at the cutting edge of information technology. Along the way he married and had four children -- a daughter and three sons.

Although he never set out to be a western writer, there was certainly a need in Laurie to write. In the late 1940s and throughout the 1950s and '60s, he wrote what he described as "squibs, stories, a documentary" for radio, and published short material in a variety of weekly and monthly magazines in New Zealand and Australia. When he retired in 1988, he attended university part-time to study English Literature, Classics, Philosophy and Education, and he really was an extraordinarily literate man, with a life-long passion for jazz and swing music.

Although he had always been an avid reader, Laurie hadn't read a single western in the thirty years leading up to The Killings at Sligo. Neither did Sligo owe much to the works of his childhood favorites, Zane Grey, Charles Alden Seltzer and, later, T. T. Flynn.

From 1989 onward, however, he rarely left his keyboard (well, typewriter, as we called them in those days), and his ability to create plausible characters caught up in convincing situations was shown to good effect in Hanging Day (1991), which begins when a gunman named Stark finds a hanged man outside the town of Wingate. It turns out that the dead man was in fact en route to Wingate to supervise the execution of a local bully-boy, whose equally anti-social father and two brothers clearly have other ideas.

Laurie was also able to examine, with some sensitivity, the often-complex relationships between men and women, as in The Storekeeper of Sleeman (1991) in which his central character is yet another man hoping to outrun his past. For my money, however, one of his best books of this period (and one of his own personal favorites) was Mad John Coe (1992). Essentially, it's the story of a mentally unstable killer who escapes from an asylum in order to return home and wreak havoc on his old neighbors. Coe himself dominates the narrative, and his hair-trigger nature is conveyed with enormous skill in every scene in which he appears. Even the more horrifying moments -- and the book has no shortage of them -- are handled with great style.

There wasn't always a great deal of action in Laurie's westerns, but then he was always more interested in characters and characterization. Nowhere is this more apparent than in Long Ago in Serafina (1993), the story of a marshal's quest to discover what really happened to a friend who apparently vanished several years earlier. This book not only offers Laurie's usual, harshly realistic portrait of life in the west, but also has a fabulous cast and a strong, dignified, believable protagonist.

When action was called for, however, Laurie was no slouch. The dramatic finale of A Shoot at Brandiron (1993), with its showdown in a thunderstorm, packs a real punch. Another pitched battle of particular note can be found in Betrayal at Miranda (1994), in which an outlaw is lured to the town of the title by the promise of a pardon, only to discover that he has actually been set up.

Because he was able to write more westerns in a year than Hale were willing to publish under one name, Laurie took on two pseudonyms in 1996. As "Frank Scarman" he penned six westerns, beginning with Black Canyon. Under the name "Tom Anson" he published eight novels, the last of which, Claw (1999) was also to be his final book. The name "Anson", incidentally, was taken from the Avro Anson aircraft. Laurie had been an aviation enthusiast from childhood, and once, during a rare discussion about his writing, he confided the origin of the pseudonym to his youngest son, Murray.

Murray continues, "The main problem with talking about dad is that he didn't talk a great deal about his writing to other people. Indeed, you probably know more about it than anyone else. Much of his writing was done in a spare room at home or out at the garden table during the summer months. Only those of us actually living in the house knew anything about it, mainly my mother, who passed away in mid-2003, myself and one of my brothers, while he was living here in the early '90s."

A statement from Jim Crampton, company secretary of Caterpillar agents Gough, Gough & Hammer, confirms this. "I understand that Laurie was quite successful as a writer. He was a very private person, and as a consequence very few of us at Gough's were aware of his success as a writer of novels."

In all, Laurie penned more than forty westerns in ten years: small wonder, then, that he sometimes felt that he was on a treadmill, and was frequently tempted to "throw it all up", as he put it. It's very lucky for the rest of us, however, that he never did.

But like so many of us, he felt that he could have done better, and was constantly frustrated by the need to cut and compress every book to fit the BHW format. He once confided, "Given another 10,000 words, I believe I could write a reasonable western." But in truth, he wrote a number of excellent westerns.

In the mid-1990s, Laurie's old bosses asked him to come out of retirement for a while, and as a consequence, we gradually lost touch, although I continued to read each new book with interest, and was rarely disappointed. However, I was shocked, to say the least, when I heard sometime in the early 2000s that Laurie had passed away in 1999.

Murray Robinson reports that many of the people who attended his funeral were astonished to discover that their friend, neighbor and colleague had published any books at all. Even Laurie's own daughter was unaware that he had written so much. "Dad spoke little to anyone about his work," Murray explains, "so it's difficult to make too many comments about how he went about the process of constructing a storyline or creating characters."

Intriguingly, Murray discovered an unfinished western among Laurie's papers, which is approximately two-thirds complete. He adds, however, "It's all hand-written, and consequently difficult to read, so I can't shed any real light on its content."

In going through my old correspondence with him in preparation for this little retrospective, however, I find that Laurie Robinson himself unwittingly provided me with as neat a finish as I could have wished for.

Likening himself to the title character in Braid (1993), he once wrote, "Like me, he is past his prime and can only keep on doing his best in a seemingly increasingly hostile world."

For a man whose "best" was actually so much better than that, however, this is, I think, as good an epitaph as any.